Ethiopia is the perfect symbiosis of culture and nature, with a diversity directly proportional to its charm. Probably the most diverse country on the African continent, Ethiopia offers us landscapes of canyons and volcanoes, mountains and deserts, savannahs and plateaus. As one of the few African countries not to have been colonized by Europeans, its cultural identity remains authentic, native and unscathed. So much so that, for most, this ends up being the highlight of their trips to Ethiopia: the cultural celebrations, the markets, the tribal rituals.
It is nicknamed by many as the Cradle of the World, since it is in Ethiopia that we find the oldest traces of homo sapiens and active places of worship that were already described in the Old Testament. Nature in "raw form" also takes us on a journey to discover the wonder of Mother Nature's strength and form, with all that it adds and subtracts.
Here are some answers to the most frequently asked questions by travelers, so you can start preparing your trip without any worries!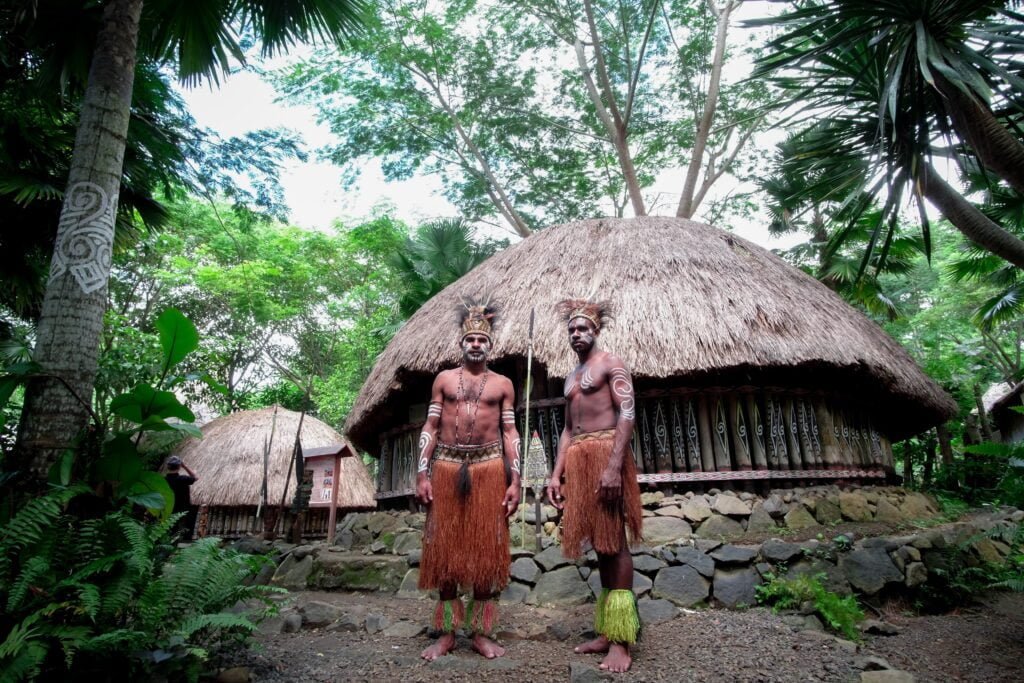 WHO PREPARED THIS TOUR?
All tours available on this site are the result of years of preparation on the ground, both from expeditions with previous groups and from other projects carried out on site and reconnaissance trips, in a joint effort between myself and the teams assisting on site.
The 2023 trip will be my first visit to Ethiopia, so this year's edition is sold as "Exploration" – however, it is done together with partners, fixers and other local professionals, thus guaranteeing the authenticity of this trip.
FLIGHTS
The start dates of the trips you see on the website are already at the destination, so you should take into account flights that arrive at the final destination before the start date of the itinerary.
Check the limits (size and weight) of your hold and hand luggage carefully.
It is recommended that you always book international flights directly with Ethiopian Airlines, as this influences the price of domestic flights (50% discount).
DO I NEED A VISA?
Yes, you need a visa to visit Ethiopia. The visa must be done online at https://www.evisa.gov.et/visa, and costs 82 USD (for 30 days).
Here's a list of the documentation required to apply for a visa:
Filling in the visa application form online.
Passport valid for 6 months after the date of travel and with two free pages.
Scanned copy of passport.
1 passport photo with a white background scanned.
Address of stay in Ethiopia (this information will be sent to you two weeks before the start of the tour).
WHAT KIND OF LUGGAGE SHOULD I TAKE?
On this tour it's important that you only wear backpacks, not trolleys / suitcases. You should bring two backpacks: a small one, which should be big enough to carry your personal belongings (water bottle, camera, snacks, documents, etc.), and one that should be waterproof, light and suitable for hiking.
For example: a 15lt to 26lt backpack as a small backpack, and a 36lt to 45lt backpack as a large backpack.
When the tour is confirmed, you'll receive a traveler's manual tailored to this specific itinerary, with tips and instructions on how to pack, what to take, weight, etc.
CLOTHING AND FOOTWEAR
Even if your itinerary doesn't include trekking or hiking, be prepared to walk. There is no place in Ethiopia that can only be reached by car. Even the paths and sidewalks are uneven and pebbled. If your itinerary includes trekking in the Simien Mountains, Bale Mountains or similar, take warmer, waterproof clothing. A general note for the whole of Ethiopia is to dress modestly so as to win the favor of the people you meet along the way.
Waterproof, lightweight and breathable jacket;
Thin / light and comfortable clothes, quick-drying and suitable for the temperatures, always with long sleeves / long pants (because of the cold and mosquitoes).
Swimsuit (there may be accommodations with a swimming pool)
Trekking shoes suitable for long, waterproof and breathable hikes;
Trekking sandals or similar;
Slippers (suitable for bathing, if necessary).
CASH OR CARD?
The official currency in Ethiopia is the Ethiopian birr, and at the moment €1 = 50.23 Br (Ethiopian birr – Br, ETB or ብር ). You can follow the most up-to-date conversion factor at www.xe.com.
When you travel to Ethiopia, it's best to bring a few dollars or euros with you, and a card for ATM withdrawals. The cheapest and most practical way is a prepaid Revolut card.
COMMUNICATIONS
Ethiopia's international code is +251. It is recommended for you to find out about the terms and conditions of your mobile plan before activating roaming in Ethiopia.
It is possible (and recommended) to buy a local SIM card. There is only one mobile operator in Ethiopia – Ethio Telecom. The SIM card costs 30Br (0.51€), and data plans cost, for example, 450Br (7.58€) with 8Gbs for 1 month, or 836Br (14.07€) with unlimited data for 2 weeks.
WHAT'S THE FOOD LIKE?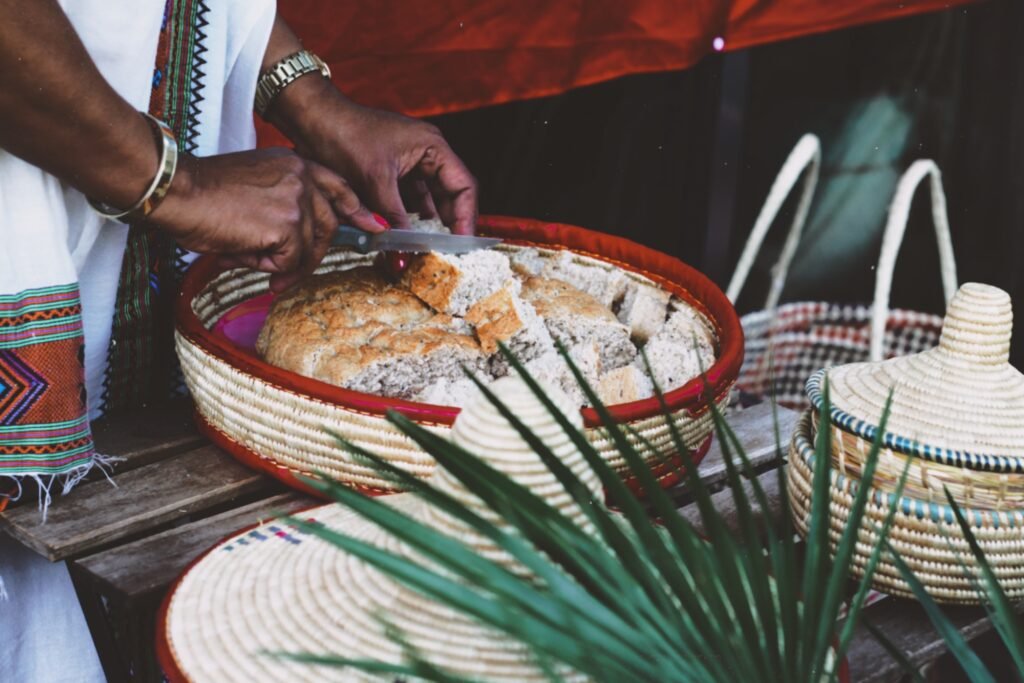 One of the best things about Ethiopia is undoubtedly the food! The color, presentation and texture are striking, and since the eyes also eat, Ethiopian cuisine stands out even before you taste it. It is often compared to Indian cuisine for its use of intricate combinations of spices and curries.
Traditional food can be summed up in three components: vegetables, meat and injera (bread). The food is usually spicy. As in other countries, bread takes the place of cutlery – we use it to roll the food from the plate to our mouths, always with just our right hand. The technique of bringing the food to the mouth with the bread favors the palate, as the bread absorbs the flavors of the sauce and curry, and in that short journey from the plate the taste buds taste in anticipation.
WHAT IF I HAVE A DIET / FOOD RESTRICTION?
It is important that you inform us in good time if you have any specific diet or food restrictions, especially if this results in any reactions. We try our best to meet your needs – you should be aware, however, that due to a lack of resources, these alternatives may be more limited.
SHOULD I INFORM YOU IF I HAVE ANY PHYSICAL CONDITIONS OR CHRONIC ILLNESSES?
It is essential that you let us know if there may be any restrictions and how we can adapt so that you have the best possible experience.
WHAT COULD BE THE BIGGEST CHALLENGES OF THIS TRIP?
Although it's not an activity-intensive trip, there are some things that can be challenging, such as culture shock, mosquitoes and, for some, the altitude and temperature differences. With several points above 2500m, some people are already showing signs of tiredness and headaches, especially those who spend most of the year at sea level.
As privileged travelers, we mustn't forget that Ethiopia is one of the poorest countries in the world. The lack of drinking water and health for the population (especially outside the cities) can cause some impact or discomfort. We mustn't forget how we can contribute to sustainable tourism, both environmentally and culturally: pay fairly / tip those who provide us with services and communicate respectfully with the locals.
WHAT SHOULD I TAKE IN MY BACKPACK?
In addition to the list of clothes and shoes mentioned above, take a notepad for your travel notes, batteries for your camera, a triple plug so you can charge several things at the same time (the sockets are the same as in Portugal), a quick-drying towel, chronic medication and a basic traveler's pharmacy, and of course, a good mood and a spirit of adventure!
Sun protection (50+ sunscreen / hat / polarized glasses)
Chronic medication, traveler's pharmacy and insect repellent.
A triple plug or extension cord
Memory cards and batteries for your camera
Headlight
Water bottle
Blindfold and earplugs
Luggage rack
Biodegradable toilet paper and wipes
Personal hygiene products, preferably environmentally friendly;
And don't forget
Your passport (valid for more than 6 months and 2 blank pages)
Copy of your vaccination card with the Yellow Fever vaccine (just print out the English digital version that you can find in your health area on the SNS Portal.
Copy of travel insurance policy
Save the digital copies in your email or online hosting.
METEOROLOGY
Because of the altitude, temperatures rarely exceed 25ºC in the highlands, above 2500m. Night-time temperatures below 10ºC are common, especially between October and February. Some lodges and campsites at higher altitudes may experience severe frosts.
In lower altitude areas (below 2000m – Lake Tana, Awash National Park, the Omo Valley or the Rift Valley in general) it can get considerably hotter, with a more tropical climate reaching temperatures of around 30ºC during the day and 20ºC at night. Exceptional is the Danakil Depression, with "infernal" temperatures where the daytime peaks can easily reach 50ºC and the nights remain warm at no lower than 35ºC.
HOW ARE THE JOURNEYS MADE WITHIN THE ITINERARY?
Throughout the trip, travel will be by private Land Rovers (only for the group) and domestic flights. Ethiopia has a good domestic flight network and an impeccable aviation record. Given the country's geography, flying is an excellent alternative for saving time and making the most of your travel time.
WHAT IS ACCOMMODATION LIKE IN ETHIOPIA?
Accommodation is varied, from comfortable hotels to bungalows in the countryside, with the possibility of a few nights of wild camping. All have private bathrooms and include breakfast, except for the camping, of course 🙂 The rooms are twin or triple, single if you have booked a supplement. For the sake of comfort, we suggest that you bring an inlayer / sheet for sleeping bags, to use when you need added thermal comfort or just as a personal taste / private comfort.
WHAT ARE THE TOILETS LIKE?
All accommodations have a private bathroom.
CULTURAL HABITS – WHAT IS AND ISN'T ACCEPTED?
As in any country, you need good manners to stay in the good graces of the local people. We can't stress enough that respecting a people and its laws doesn't necessarily mean that we agree with them!
Ethiopia is a multicultural and multiethnic country. Religion is a major influence on Ethiopian life. Almost half of the population belongs to the Ethiopian Orthodox Church, but there is also a large Muslim population. Others adhere to an ancient form of Judaism.
The Ethiopian Orthodox Church is proud of its origins and dominates the political, cultural and social life of the population. Muslims are important in the business community.
The extended family continues to be the focus of the social system. This includes relatives from both sides of the family, as well as close friends. It's normal for parents to live with their children when they get married. Social recognition/status also comes through the family, and family needs take precedence over work needs.
The most common form of greeting is a handshake with direct eye contact. The handshake is generally much lighter than in Western cultures.
After establishing a close personal relationship, people of the same gender can greet each other with three kisses on the cheeks.
Men should always wait to see if a woman extends her hand.
Greetings should never be rushed. Take time to ask questions about family, health, work, etc.
People are addressed by their honorific title and first name. 'Ato', 'Woizero ' and 'Woizrity ' are used to address a man (ato), a married woman (woizero) and an unmarried woman (woizrity), for example.
The elderly should be greeted first. It is customary to bow when introduced to someone who is obviously older or occupies a higher position. You'll often see children doing this.
If you're invited to someone's house, take sweets, fruit or flowers for the host. A small gift for children is always appreciated. Most Muslims and Amharic people don't drink alcohol, so they avoid bringing alcoholic drinks as gifts. Gifts are given with both hands or only with the right hand; never the left hand. They never open presents, only in your absence, so don't think it's strange if they don't. As Ethiopia is an extremely poor country, expensive gifts are not the norm. In fact, offering a very expensive gift can be seen as an attempt to gain influence or it can embarrass the recipient, since they won't be able to reciprocate.
An invitation to a private home should be considered an honor.
You'll probably have to take your shoes off before entering someone's house.
Greet each person individually with a handshake.
The woman should offer to help the hostess prepare or clean up after the meal has been served.
They're going to give you a cup of coffee – it's considered rude to refuse.
Ethiopians are relatively formal and believe that table manners are a sign of respect.
Don't assume that because the food is eaten with your hands, it lacks decorum.
He expects a small clay or metal jar to be brought to the table before the meal is served. Hold your hands over the basin while the water is poured over them.
He only uses his right hand to eat.
The hierarchy dictates that the oldest person is the first to take the food off the communal plate.
Guests are often served tasty snacks by another guest in a gesture called a gursa: with their hands, the person places a piece of food (usually injera – bread) in the other person's mouth. As this is done out of respect, it's a good idea to smile and accept the offer.
Plenty of food is a sign of hospitality – you'll probably be asked to repeat or eat more.
The meal ends with a hand-washing ritual and coffee.
Coffee is a national drink and its consumption is a ritualized process that usually takes at least an hour. Here are the 10 steps of this formal ritual:
You'll sit on cushions, on the grass or on the flower-covered ground with incense burning in the background.
A woman or child enters the room to wash and roast the coffee beans on the coals.
The roasted grains are then ground by hand and added to the boiling water.
The sugar is placed in small cups without handles and the water/coffee mixture is added.
Inhale the aroma of coffee before you drink it.
The first round (called abol) is served, always starting with the oldest.
After the first cup, the jebena (coffee maker) is refilled with water.
The second round (called tona) is then served. It is weaker than the first because the same ground grains are used.
The third round (called baraka) is served after more hot water has been added to the jebena.
Always drink your coffee slowly.
HOW DO I EXTEND MY STAY IN ETHIOPIA OR NEIGHBORING COUNTRIES?
If you want to extend your trip, schedule a free online meeting(at this link) to help you organize the continuation of your trip.
I'M TRAVELING ALONE – SHOULD I BOOK WITH A SINGLE SUPPLEMENT?
When you travel alone with us, you don't have to book with a single supplement! You will always share your accommodation with colleagues in the group.
SOCIAL AND ENVIRONMENTAL RESPONSIBILITY
Throughout your trip you will be in constant contact with nature and wild animals, so extra precautions are needed to minimize your impact on it. Here are some recommendations that we hope you'll follow:
The sanitation here is not (at all) spectacular, so we ask you to be extra careful with the products you use and the waste you produce. It favors the use of hygiene products that are biodegradable and environmentally friendly.
Never flush toilet paper, pads, tampons, dental floss or anything else down the toilet! ALWAYS use the garbage bin.
We also suggest that ladies use a menstrual cup or underwear instead of conventional disposable hygiene products, which are highly polluting and impractical on these trips.
TO READ, SEE AND HEAR
There are lots of things you can learn about a country through its literature, music, cinema or any other art. Here are some suggestions:
MINI-SERIES | The Great Rift, 2010
The Great Rift Valley in Ethiopia was created when the African and Arabian tectonic plates separated around 35 million years ago. This series investigates the forces that created the rift and focuses on the landscape and wildlife of this spectacular place that we will explore on our journey.
BOOK | Chains of Heaven, 2006
Philip Marsden returns to the remote, starkly beautiful landscape that has exerted a powerful mythical appeal over him since they first met more than twenty years ago. Ethiopia created in him the conviction that there is a wider purpose to our lives. To understand the world. To seek out its diversity, to celebrate its heroes and its wonders – to bear witness to it. When Philip Marsden went to Ethiopia for the first time in 1982, it changed the course of his life. What he saw of its impressive antiquity, its raw Christianity, its extremes of brutality and grace aroused his curiosity and made him a writer. But Ethiopia at that time was torn apart by a civil war. The north, the former heart of the country, was closed twenty years later. Marsden is back, and the result is this book.
BOOK | In Search of Sheba 2023
In 1959, Barbara Toy, famous for her travels in North Africa and Arabia, set off in her iconic Land Rover to travel solo from Libya to Ethiopia. Alone, she crossed the Sahara desert and the equatorial forests of the Congo, before ascending to the highlands of Haile Selassie's empire. Her travels through Ethiopia have taken her from modern Addis Ababa to the ancient ruins of Axum, passing through rural areas dominated by bandits all the way to the summit.
BOOK | Sheba: Through the Desert in Search of the Legendary Queen, 2007
In this exciting archaeological adventure, Nicholas Clapp searches for the truth behind the legend of the Queen of Sheba. Since she entered King Solomon's court three thousand years ago, her story has been told and retold, often being diluted, altered and reworked along the way. On a mission to collect clues to the mystery of Sheba, Clapp travels to Ethiopia, Yemen, Israel and even a village in France. Using the latest technology, including satellite images and some recent archaeological discoveries, he brings together the facts behind the multi-faceted myth of Sheba.
MINI-SERIES | In Search of Myths and Heroes – The Queen of Sheba, 2005
The story of the Queen of Sheba appears in sacred religious texts for Jews, Christians and Muslims. Described in the Bible simply as a Queen of the East, modern scholars believe that she came from the Kingdom of Axum in Ethiopia or the Kingdom of Sheba in Yemen. In the original story, she brings a caravan of valuable gifts to King Solomon of Israel, with several bundles of incense. Both countries – Ethiopia and Yemen – claim the Queen of Sheba as their own. Given that they are separated by only 25 kilometers of water, both could be right, since for contemporary historians, Ethiopia and Yemen would then be the kingdom of Sheba.