Morocco is always a surprise: it has deserts and mountains, and many cultural characteristics so different from our own, in a traditionally hospitable people. Here are some answers to the most frequently asked questions by travelers, so you can start preparing your trip without any worries!
WHO PREPARED THIS TOUR?
All tours available on this site are the result of years of preparation on the ground, both from expeditions with previous groups and from other projects carried out on site and reconnaissance trips, in a joint effort between myself and the teams assisting on site.
Morocco was my first destination outside Europe, a spur-of-the-moment trip I made by car from Lisbon in 2003 and never stopped. The trip is prepared not only by me, but together with all these people, and based not only on our personal experience, but also on feedback and requests from past and future travellers.
FLIGHTS
The start dates of the trips you see on the website are already at the destination, so you should consider flights that arrive at the final destination before the start date of the itinerary.
Check the limits (size and weight) of your hold and hand luggage carefully.
At the time of writing, the best option for flights to Morocco from Portugal is with TAP, but you also have options with Royal Air Maroc, Easyjet or Ryanair.
DO I NEED A VISA?
No visa is required for Portuguese passport holders. On arrival in Morocco, your passport is stamped and you are usually asked for the address of your stay in Morocco – this information will be sent to all travelers about 15 days before the start date of the trip.
WHAT KIND OF LUGGAGE SHOULD I TAKE?
I only recommend using backpacks, not trolleys / suitcases. On short journeys it is recommended that you only bring a 25-liter backpack as hand luggage on the flight – this frees you from additional weight and load and makes your trip more ecological and economical.Q
When the trip is confirmed, you'll receive a traveler's manual tailored to this specific trip, with tips and instructions on how to pack, what to take, weight, etc.
CLOTHING AND FOOTWEAR
Morocco is a very diverse country, with mountains, deserts and medinas. Temperatures in the mountains and desert drop significantly at night, so you should be prepared for these occasions. In winter, temperatures can get below freezing and there's a chance of some snow on the mountain, and towards summer, temperatures can get dangerously high during the day.
CASH OR CARD?
The official currency in Morocco is the Moroccan dirham, and at the moment 1€ = 10.70 MAD (Moroccan dirham – MAD or DH). You can follow the most up-to-date conversion factor at www.xe.com.
When you travel to Morocco, it's best to bring a card with you to make ATM withdrawals. The cheapest and most practical way is to bring a prepaid Revolut card. Debit and/or credit cards are usually widely accepted in restaurants or large stores in big cities – otherwise, you'll always need local money, euros or dollars. ATMs are plentiful, but they charge a small withdrawal fee (around 33 MAD per withdrawal).
There are bureaux de change, but it's cheaper and more convenient to withdraw from an ATM with Revolut-type cards, so this is the way I recommend.
COMMUNICATIONS
Morocco's international code is +212. Some of the Portuguese operators roam but at quite high prices (it's outside the EU), so it's advisable to find out about the conditions / rates of your tariff before activating roaming.
You can get a local SIM card – as a rule, 1Gb = 1€. SIM cards are free, and with Orange they don't need to be registered – just accept a card on arrival at the airport and you can load it with data straight away, or top it up as you need it. You can top up by buying vouchers at convenience stores, or by asking a local to do it for you using their tariffs.
WHAT'S THE FOOD LIKE?
Moroccan food is based on tajines (conical-shaped clay pots that are put on the stove), couscous, soups and rfissas. There's always bread, olives, butter and cheese, and for drinks we're always greeted with green tea or mint tea (in summer) and lots of orange or pomegranate juice. The dishes are plentiful, the people are welcoming and hospitality always revolves around food. Each region has its own way of making bread, crepes or pancakes.
Being a Muslim country, you can't eat pork or drink alcoholic beverages, but you can find wines and beers at much higher prices and of a much lower quality than we're used to.
WHAT IF I HAVE A DIET / FOOD RESTRICTION?
It is important that you inform us in good time if you have any specific dietary restrictions, especially if this results in any reactions. We try our best to meet your needs – you should be aware, however, that due to a lack of resources, these alternatives can be quite limited.
SHOULD I INFORM YOU IF I HAVE ANY PHYSICAL CONDITIONS OR CHRONIC ILLNESSES?
It is essential that you let us know if there may be any restrictions and how we can adapt so that you have the best possible experience.
HOW DIFFICULT IS THE HIKE IN THE ATLAS VILLAGES?
The walk is about 9km, but very easy. The terrain is a mixture of dirt, gravel and sometimes we have to cross small streams, so it's imperative that your footwear is waterproof in winter or totally permeable in summer if you want to purposefully get your feet wet and let them dry on the move.
Halfway through the hike you'll taste a traditional Berber lunch in a local family home, so you can rest a bit and rehydrate.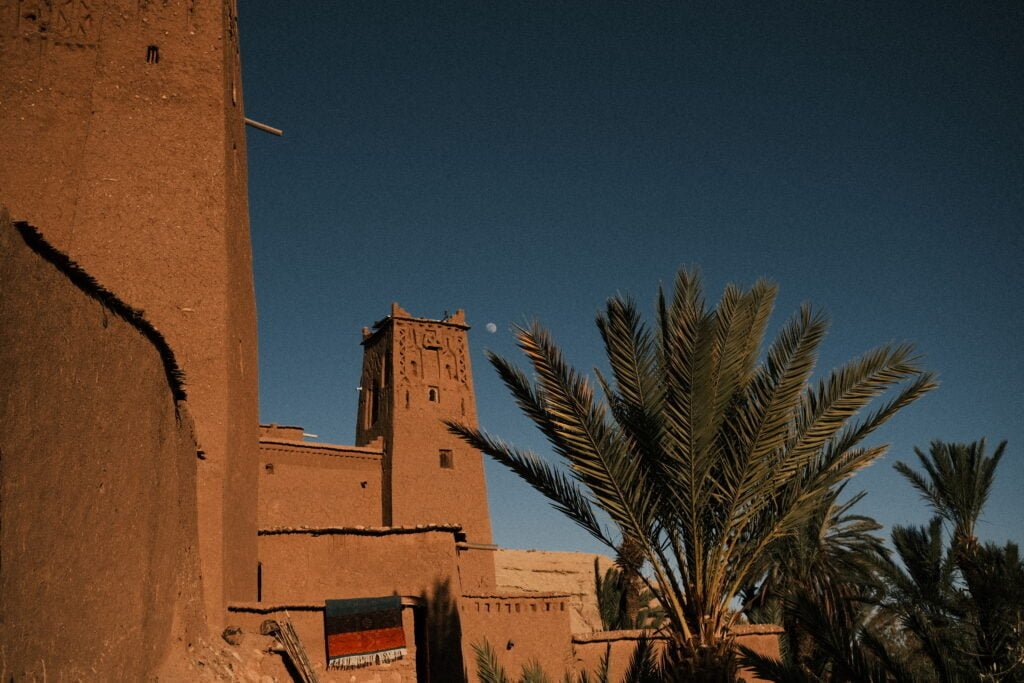 HOW ARE THE JOURNEYS MADE WITHIN THE ITINERARY?
Throughout the trip, travel between cities will be by private transport.
WHAT IS ACCOMMODATION LIKE IN MOROCCO?
In all the cities we stayed in top quality riads, always traditional.
In the desert we stay in a luxury resort, Bedouin style, but with all the luxury amenities, so you can rest comfortably without giving up the immersive experience of a desert. All accommodations have heating/cooling systems, private bathrooms and single or double beds.
WHAT ARE THE TOILETS LIKE?
All accommodations have a private bathroom.
CULTURAL HABITS – WHAT IS AND ISN'T ACCEPTED?
Despite being a Muslim country, women are not asked to dress differently or wear headscarves – Morocco's proximity to Europe means that it is a country that is very accustomed to European customs.
As in any country, you need good manners to stay in the good graces of the local people. We can't stress enough that respecting a people and its laws doesn't necessarily mean that we agree with them!
WHAT SHOULD I TAKE IN MY BACKPACK?
In addition to the list of clothes and shoes mentioned above, take a notepad for your travel notes, batteries for your camera, a triple plug so you can charge several things at the same time (the sockets are the same as in Portugal), a quick-drying towel, chronic medication and a basic traveler's pharmacy, and of course, a good mood and a spirit of adventure!
Sunscreen 50+;
Polarized sunglasses;
Chronic medication;
Memory cards and batteries for your camera;
Canteen for water;
Personal hygiene products;
METEOROLOGY
In winter, in mountainous areas and in the desert, you can expect temperatures of around 10ºC, which can get below freezing at night. Chance of snowfall in the highlands. In the cities, temperatures are slightly more pleasant.
Near summer temperatures can easily reach 40ºC in the cities and in the desert – it's important to stay hydrated, preferably with cool layers of clothing that protect you from the sun, 50+ sunscreen and polarized sunglasses. In the mountains, temperatures are usually 10ºC cooler than in the city. However, and especially due to the consequences we are all feeling from global warming, these figures could be quite different.
I'M TRAVELING ALONE – SHOULD I BOOK WITH A SINGLE SUPPLEMENT?
When you travel alone with us, you don't have to book with a single supplement! You will always share your accommodation with colleagues in the group.
HOW DO I EXTEND MY STAY IN NEPAL OR NEIGHBORING COUNTRIES?
If you extend your trip, schedule a free online meeting(at this link) to help you organize the continuation of your trip.
SOCIAL AND ENVIRONMENTAL RESPONSIBILITY
Throughout your trip you will often be in contact with nature, so extra precautions are recommended to minimize your impact on this environment. It favors the use of hygiene products that are biodegradable and environmentally friendly. We also suggest that ladies use a menstrual cup or panties instead of conventional disposable hygiene products, which are highly polluting and impractical on these trips.
TO READ, SEE AND HEAR
There are lots of things you can learn about a country through its literature, music, cinema or any other art. Here are some suggestions:
BOOK | The Alchemist, 1988
The Alchemist recounts the adventures of Santiago, a young Andalusian shepherd who leaves his homeland and travels across North Africa in search of a chimera – a treasure buried beneath the pyramids. A gypsy, a man who claims to be a king and an alchemist will help him on his quest. No one knows exactly what the treasure is or whether Santiago will be able to overcome all the obstacles on his journey across the desert. But what starts out as an adventure through exotic locations in search of material wealth ends up becoming a journey of self-discovery and the richness of the human soul. The Alchemist recreates a timeless symbol that reminds us of the importance of following our dreams and listening to the voice of the heart.
FILM | Casablanca, 1942
One of the greatest classics of all time with Ingrid Bergman and Humphrey Bogart as a couple of former lovers who meet again in Morocco during the chaos of World War II, at a time when Morocco is teeming with European refugees seeking passage to a neutral Lisbon. In Casablanca it's easier to get in than to get out, especially if your name is on the Nazi most wanted list. At the top of that list is the leader of the Czech Resistance, Victor Laszlo, whose only hope is Rick Blaine, a cynical American who won't risk his neck for anyone, especially Victor's wife Ilsa, his ex-lover from Paris. Now it's up to Rick to decide what's more important: his happiness or the countless people waiting for him to leave the country.
FILM | The Man Who Knew Too Much, 1956
The Man Who Knew Too Much, by Alfred Hitchcock with James Stewart and Doris Day, filmed in 1956, the same year that Morocco gained independence, captures some of the emotion of that period. It has all the tense drama of a Hitchcock thriller, with a scene in Jemma El Fna square where Hitchcock makes an appearance looking at acrobats in a café while a man is stabbed nearby. The fortress built by the French as a police station in the square features prominently in the film.
BOOK | Lords of the Atlas, 1966
Set in the medieval city of Marrakech and the majestic kasbahs of the High Atlas Mountains, "Lords of the Atlas" tells the extraordinary story of Madani and T'hami el Glaoui, warrior brothers who carved out a feudal fiefdom in southern Morocco at the beginning of the 20th century. Traitors to the French colonial administration, they combined the aggression of gangsters with the opulence of hereditary Indian princes and ruled with a mixture of extravagance and terror. On his return from the coronation of Queen Elizabeth II in 1953, T'hami ordered the severed heads of his enemies to be mounted on his gates. However, in 1956, when the French left Morocco, the Glaoua regime fell like a deck of cards.
BOOK | The Caliph's House, 2006
Ignoring the advice of friends, writer and filmmaker Tahir Shah longed to fulfill his dream of finding a place full of life, color, history and romance – anywhere far from London – to raise a family. Childhood memories of vacations with his parents and a grandfather he barely knew led him to Morocco and to 'Dar Khalifa', a sprawling, long-abandoned residence on the outskirts of Casablanca's slums which, rumor has it, once belonged to the city's caliph. So begins Tahir Shah's gloriously vivid, funny, affectionate and compelling account of how he and his family – aided, abetted and often hindered by a wonderful cast of great local characters: guardians, gardeners, builders, craftsmen, bureaucrats and police (not forgetting the genies, the spirits who haunt the house) – restored the former glory to the House of the Caliph and learned to make this country their most exotic and seductive home. "The Caliph's House" is a story of home ownership abroad – full of dramas, anxieties and frustrations. Woven into the narrative is the author's own journey of self-discovery, of learning about a grandfather he barely knew and of loving the magical, multifaceted and contradictory country that is Morocco.